Vita gems are the alternative in game currency to
Tree Food
. You are able to purchase them to earn them easily, but there are also many free ways to earn them. You can use vita gems for many things, a majority of which are extremely useful.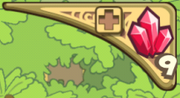 Uses
Vita gems are used for many things including;
Growing your critters instantly, as opposed to waiting
Purchasing critters in the market
Upgrading Poppy's house
Purchasing plants for your branches

Ways to Earn
You can earn vita gems through a variety of different ways. The main way is to purchase them, as it gets you high amount that can be spent on larger things. You can also earn them free by;
Critters may drop them every so often along with Tree Food
Discovering new critters gives you 1-5 vita gems
On adventures you may collect them
Watching videos
Gifting and receiving from neighbors
Ad blocker interference detected!
Wikia is a free-to-use site that makes money from advertising. We have a modified experience for viewers using ad blockers

Wikia is not accessible if you've made further modifications. Remove the custom ad blocker rule(s) and the page will load as expected.