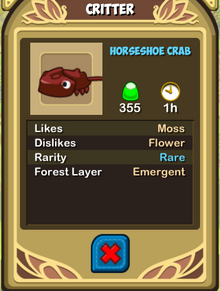 The Horseshoe Crab is a Rare Critter that can be bought from the Market , summoned by Poppy , or obtained through Trading .
Name - Horseshoe Crab
Type - Critter
Likes - Moss
Dislikes - Flower
Rarity - Rare
Forest Layer - Emergent
Market Price - 100 Vita Gems
Scientific Name- Limulus polyphemus
Looking like something from a prehistoric ocean, horseshoe crabs are distant relatives of spiders. They crawl onto beaches in huge numbers to lay eggs, and only a few of them return to the sea.
| Levels | Food Production |
| --- | --- |
| Level 1 | 355 / 1hour |
| Level 2 | [Fill in] / 1hour |
| Level 3 | [Fill in] / 1hour |
| Level 4 | [Fill in] / 1hour |