Goffy
Goffy is a dastardly evil forest fairy. She appeared in the PlayForge game Zombie Farm as a special invasion boss to celebrate/cross promote the introduction of the Tree World game. As of yet she hasn't made an appearance in Tree World. Little is known about evil Forest Fairies execpt that they aren't big on learning from their mistakes, possibly a hint that Goffy may appear as an antagonist at a later date.

Goffy was first introduced in Zombie Farm (Version) 1.15 on 30th March 2012.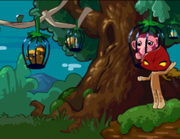 Trivia
Her face is a red leaf instead of a green leaf
She has tattered wings and yellow eyes rimmed in orange.
External Links
For more information about her appearance in the Zombie Farm game, please visit the Zombie Farm Wiki
Ad blocker interference detected!
Wikia is a free-to-use site that makes money from advertising. We have a modified experience for viewers using ad blockers

Wikia is not accessible if you've made further modifications. Remove the custom ad blocker rule(s) and the page will load as expected.