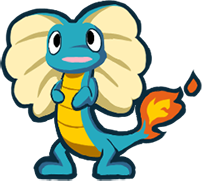 Name- Fizzard
Likes- Flower
Dislikes- Moss
Rarity- Rare
Food Production:
Level 1 - 709/4h
Level 2 - (To be Added)
Level 3 - (To be Added)
Level 4 - (To be Added)
Scientific Name - Chlamydosaurus kingii
The Fizzard is an electric blue frilled lizard with a flick of fire on the end of its tail. It walks upright like a dinosaur, which could possibly be referencing the frilled lizard's similar appearance to many kinds of dinosaurs.
Trivia
The Fizzard is one of the two critters that blow bubbles while sleeping. The other one is the Skull Imp.
Ad blocker interference detected!
Wikia is a free-to-use site that makes money from advertising. We have a modified experience for viewers using ad blockers

Wikia is not accessible if you've made further modifications. Remove the custom ad blocker rule(s) and the page will load as expected.