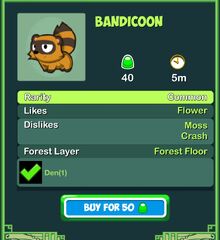 The Bandicoon is a Common Critter which can be bought in the Market, obtained through Trading or Summoned by Poppy.
| Levels | Food Production |
| --- | --- |
| Level 1 | 40/5 minutes |
| Level 2 | 56/5 minutes |
| Level 3 | 64/5 minutes |
| Level 4 | 100/5 minutes |
Trivia
The Bandicoon resembles a raccoon and seems to be named after the cartoon character Crash the Bandicoon. (In the new Tree World, Crash appears as one of the Bandicoon's dislikes.)
The name Bandicoon is a mix between the names Bandicoot and Racoon.
Ad blocker interference detected!
Wikia is a free-to-use site that makes money from advertising. We have a modified experience for viewers using ad blockers

Wikia is not accessible if you've made further modifications. Remove the custom ad blocker rule(s) and the page will load as expected.